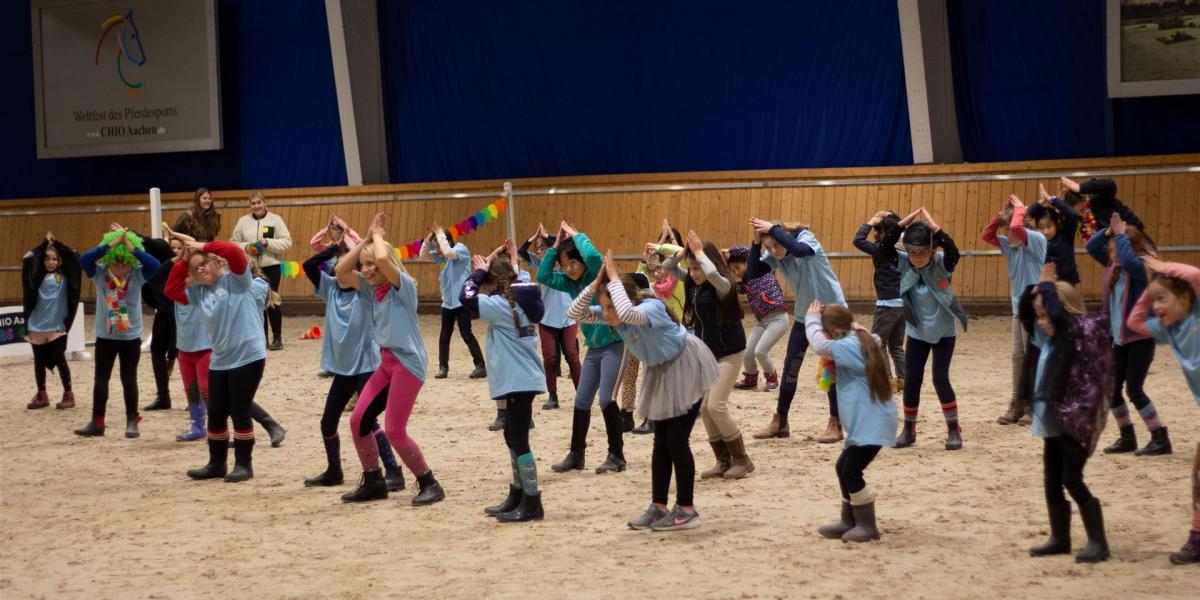 Monday, 25. October 2021
2nd CHIO Aachen CAMPUS holiday camp
Grooming horses, riding and watching the horse dentist at work – at the 2nd edition of the "CHIO Aachen Kids Camp" from October 18th-22nd, 2021 everything revolved around the horse for 50 primary school children– and of course this format offered by the CHIO Aachen CAMPUS also held the odd surprise in store.
For five days during the autumn holidays, the focus lay on the youngsters of the equestrian scene at the location where otherwise the top riders, vaulters and drivers in the world compete against each other. In the scope of the 2nd CHIO Aachen Kids Camp, 50 girls and boys all keen on riding came together at the world-famous grounds of the Aachen Soers. Some of them with previous experience, some without – but this made no difference. In addition to diversified sports and active games, crafting offers and theory lessons, of course predominantly the varied programme offered the children, who were divided up into five groups, an introduction to the horse.
How do I groom a horse correctly? What is one allowed to feed a horse? How do I lead it correctly? To help answer these questions ten ponies in total were available, which the children were even allowed to ride (on the lead rein). Special highlights of the five-day programme included the practical demonstration by the horse dentist, the vaulting workshop with the Köln Dünnwald Vaulting Club and a visit by Josh Clemens from the Netherlands, who brought a whole range of animals to the Soers with him. An impressive presentation of birds of prey was followed by a fast-paced mounted jousting demonstration. And the children really loved the dromedaries, which they were not only allowed to stroke, but they were also able to have a ride on them too. The conclusion after five days: everywhere kids with gleaming eyes! Everyone had lots of fun and that was clearly visible all the time – particularly during welcome dance in the morning or when practising the circus number they performed in front of their parents on the last day.