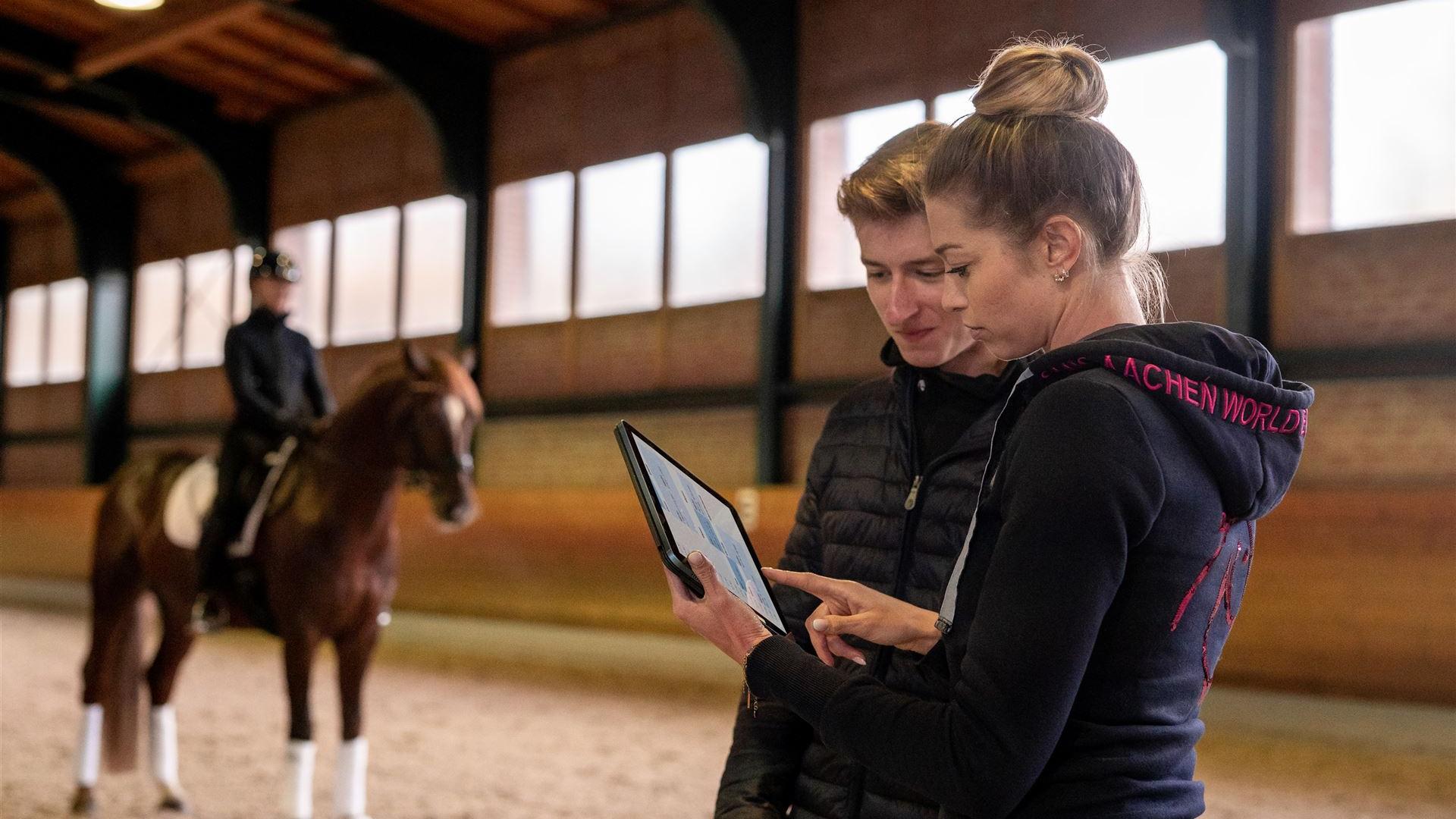 Equestrian Stable Management
Professionals employed in the equestrian industry can profit from the brand-new certificate programme of the CHIO Aachen CAMPUS and the RWTH International Academy in future. Newcomers to the profession can obtain optimal training for the rising demands of the future in the scope of the Junior Programme, whilst participants with more experience in the field can enrol for the Senior Programme.
14.12.2023

Keynote Speech with Holger Hetzel & Christine Dorenkamp

Holger Hetzel answers your questions! Be there when the owner of the internationally renowned equestrian center, together with his stable manager, gives exclusive insights into his professional business.

Aachen Dressage Youngstars 2023

First-class conclusion to the season and a diversified show programme | Local matador competing in the Children's age group

Top equestrian sport and a festively decorated Albert-Vahle Arena – these are the ingredients of the star-studded end-of-the-year show for aspiring young dressage riders at the CHIO Aachen CAMPUS. 77 talents from 19 nations will be competing at the Aachen Dressage Youngstars from November 30th – December 3rd. One of them is the local matador, Lynn Greven, from RV Aachen.

02.01.-15.02.2024

Professional training on the equestrian simulator – New dates

Take the chance to have your seat checked and analyzed by a professional simulator coach on the CHIO Aachen CAMPUS equestrian simulator.

11.12.2023

Secure your ticket now: Live training with Lars and Gerrit Nieberg at the CHIO Aachen CAMPUS

They are currently one of the most successful family teams on the showgrounds of the world: The Olympic gold medallist, World and European Champion, Lars Nieberg, and his son Gerrit, who took the equestrian world by storm with his surprise victory in the Rolex Grand Prix at the CHIO Aachen in 2022. On December 11th, the pair will be giving valuable insights into their joint everyday training routine in the scope of a hosted, live training at the CHIO Aachen CAMPUS.
Innovative. Sustainable. Cooperative.
Here at the traditional show grounds at the Aachen Soers, we have at our disposal an infrastructure comprising of a wide range of training and competition sites –both indoors and out - that is unique worldwide. The CHIO Aachen CAMPUS makes use of this infrastructure to offer the equestrian sport an all-year-round offer, the focus of which lies on youth promotion, training, education and digital aspects – always linked up with the annual highlight, the World Equestrian Festival, CHIO Aachen.