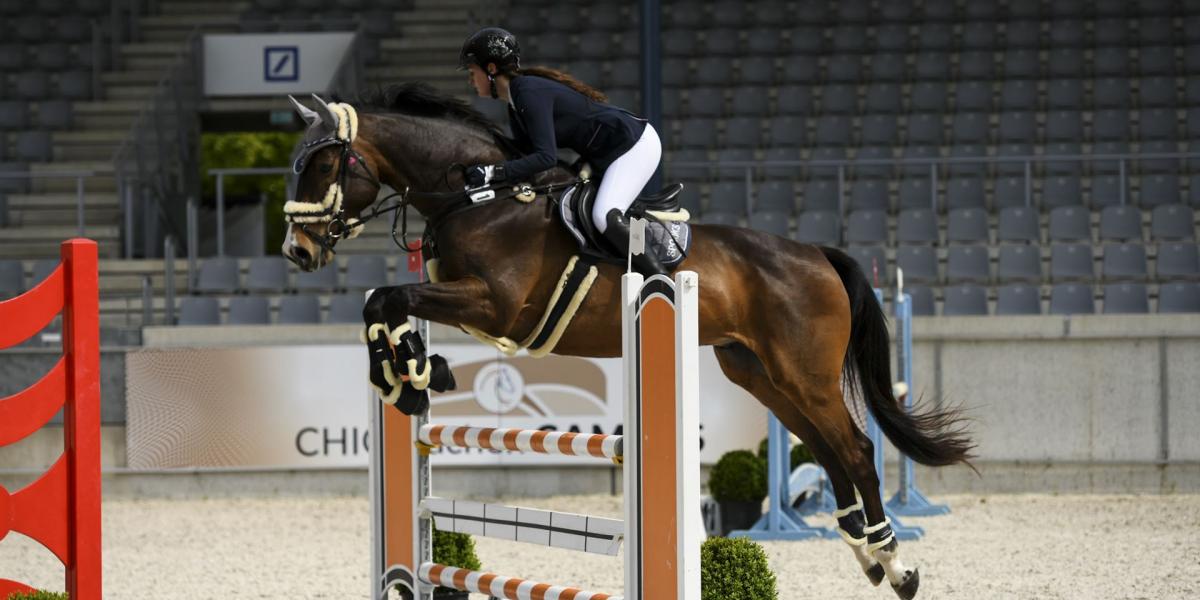 Monday, 9. May 2022
Successful Full-Service Training Days at the CHIO Aachen CAMPUS
A beaming sun and beaming faces: The newly created training day at the CHIO Aachen CAMPUS was a total success for both the dressage riders and the show-jumpers. The participants not only took an exclusive assessment by Dorothee Schneider and Rob Ehrens, respectively, home with them, but also valuable tips for themselves and their four-legged sports partners in terms of health & fitness.
A complete package of concentrated expert knowledge awaited the participants at the probably most beautiful equestrian sport site in the world. First of all a dream came true for many of them: Being allowed to ride in the Deutsche Bank Stadium. Whilst the show-jumpers received feedback directly from Rob Ehrens, the former Dutch national coach, after they had finished jumping the course, the dressage riders were able to look forward to a highlight at the end of the day: A video analysis with the team Olympic gold medallist, Dorothee Schneider.
But that wasn't all: After the training the equine osteopath, Kathrin Lövenich, examined the horses and gave the participants individual tips on how to gymnasticise the horses at home doing ground work. Subsequently each of the participants was given the opportunity to have the gaits and the shoeing of his horse analysed by the extremely coveted blacksmith, Marcus Wagner. After being weighed, the feed expert Havens, gave tips on the correct feeding of the individual horses. And so that the riders also left the training day "strengthened", each of the participants received advice on their fitness from the sports doctor, Dr. Christian Weber and the team of physiotherapists from the RWTH. The programme was rounded off by advice in insurance matters by Allianz.
The participants were impressed all-round and took a lot of new input home with them. "It was a great experience to ride here in the Deutsche Bank Stadium. And Dorothee gave us some very good tips," the dressage rider, Tom Friedl, explained. "The other subjects were also very informative, I have learnt a great deal today." The feedback from the show-jumpers was equally positive: "The training with Rob was super. And being able to ride here was really cool," summed up Jaycen Schlesinger.
Those who missed out on the opportunity of the training day, will have chance to attend the next one which will be held in the late summer. Stay tuned!