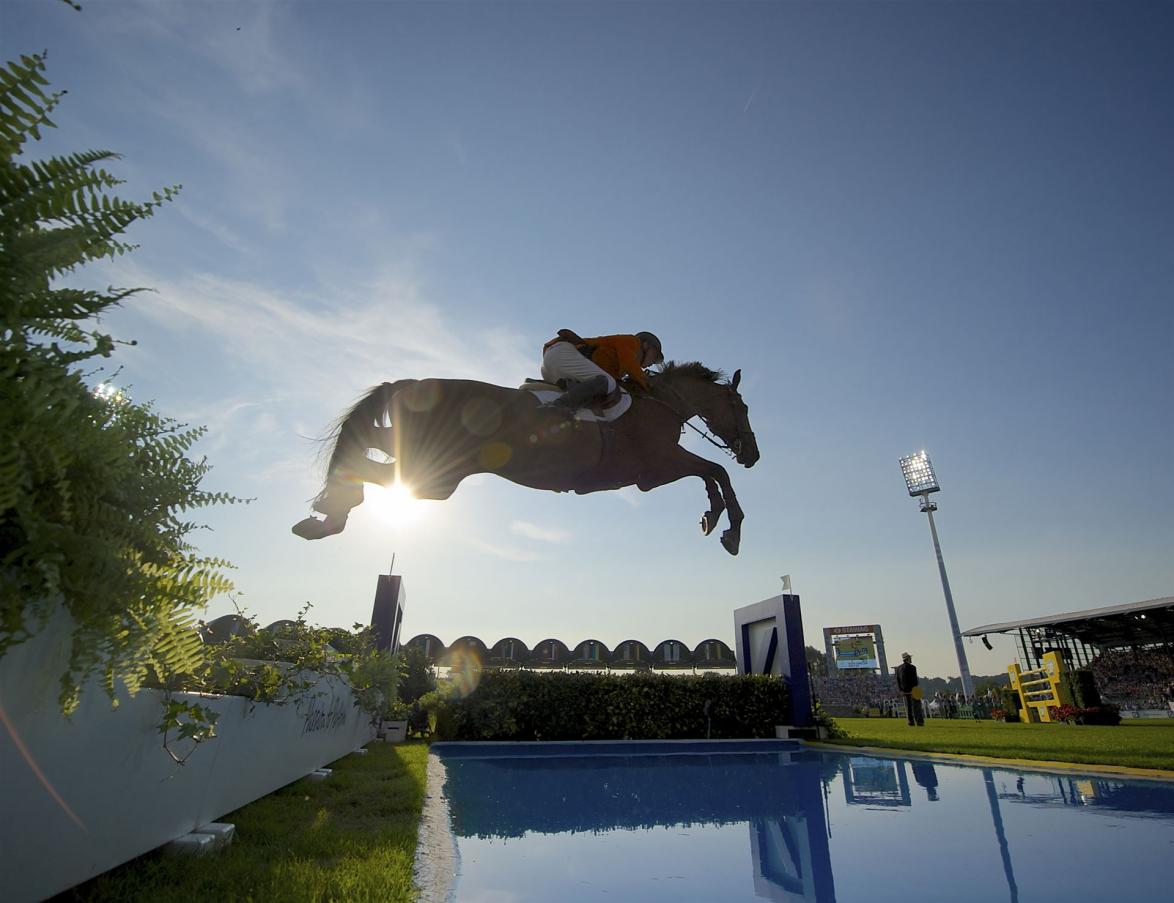 Date: March 18th, 2022
Start: 6 pm (3 hours including break)
Target group: Tournament riders and coaches
Costs: 30 Euro
Location: Albert-Vahle-Hall
Content:
approx. 45 minutes theory "Fitness for horse & rider".
approx. 60 minutes live demo (optimal warm-up under competition conditions)
Important: You cannot bring your own horse!
Further information:
How do I prepare myself optimally at the show for the next test? This is the focus of the CHIO Aachen CAMPUS seminar on March 18, 2022 – and that applies for both the theory and the practical part. Initially, Matthias Bojer from the Institute for Outdoor Sports at the German Sports University in Cologne, will convey basic knowledge from the field of sports and training science. The graduate sports scientist will speak about the latest cognitions of modern training for the horse and rider.
Subsequently, together with his riding pupils, Lars Meyer zu Bexten, one of the most famous and most successful jumping trainers worldwide, will demonstrate how in his opinion one should warm-up for a competition optimally using practical examples. Of course, the participants can pose questions and discuss individual problems at all times and these will then be visualised in a practical manner. It is not possible to participate with own horses.
Participants with a valid trainer's licence can have the seminar credited as a further education measure with 8 learning units (profile 1) (coordinated with the Rhineland Equestrian Sports Association e.V.).
Personal members of the FN receive a discount and can participate for 25 Euros.
About Matthias Bojer
Matthias Bojer is a specialist in the field of performance diagnostics and training control for the equestrian sport. Employed by the German Sports University in Cologne since 1996, he is responsible for research into the equestrian sport. The graduate sports scientist has carried out numerous surveys on the physical strains incurred in the equestrian sport and developed a fitness test for horses in collaboration with Ludger Beerbaum. Bojer is himself successful at advanced level both as a show-jumper and trainer.
About Lars Meyer zu Bexten
Lars Meyer zu Bexten was predestined for his subsequent career, he namely grew up on his parent's farm in Herford, surrounded by horses, so it was quite a logical step that he would dedicate his attentions to the equestrian sport. Himself highly successful in the field of show jumping, the official FEI tutor, who has a degree in Economics, has already been responsible for international trainer courses and further training since 2004. As a worldwide coveted coach, the master in equine management has already given courses in over 30 different countries to-date and was a member of the German Olympic Equestrian Committee's (DOKR) team of national show jumping coaches.